Cosmopolitan and ICQ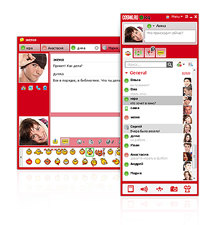 The Cosmopolitan magazine website, www.cosmo.ru, and ICQ have created a special Internet messenger designed for fashionable and stylish young women. The exclusive design, video and audio capabilities, quick access to key Cosmo.ru projects and much more make this new ICQ messenger an indispensable online aid for today's Internet users.
The joint ICQ and Cosmopolitan messenger has a bright and stylish red design familiar to Cosmo.ru users. The audio and video functions, free SMS service, photo sharing, online games, integration with popular social networks and even such "trifles" as a huge variety of smiley faces make this ICQ messenger the ideal tool for staying in touch with friends, searching for new friends and just having fun.
Immediately after launching the new ICQ messenger, users see a window with "hot" trendy news, contests and the latest photos and videos from the Cosmo.ru website. What's more, icons are built into the messenger's interface that enable users to quickly and easily gain access to such popular Cosmo projects as iPad, Radio, Star News, Photo and My Day – My Way.
Alexander Gorny, director of the ICQ project, said: "The needs of the ICQ audience are varied and constantly changing. That is why we are continually working on the messenger's capabilities. At the same time, we understand that, even within the framework of a single project, it is difficult at times to fully take into account the demands of this or that group of users. That is why special versions of ICQ are custom-developed to meet the needs of different audiences," he said. "Tens of millions of members of the fair sex use ICQ messengers, and such a popular women's resource as Cosmo.ru knows their tastes and preferences better than anyone. That is why our desire to make a joint product with that particular resource is completely understandable. We are certain that young women will appreciate the features of the new ICQ messenger."
Cosmopolitan editor-in-chief Alya Badanina added: "It is no secret that young women talk six times more than men. Now they can finally do it with the atmosphere and design of Cosmopolitan. I have already downloaded this wonderful messenger, and I hope it will bring as much joy to our readers as it does to the editorial staff. Ready to chat! 'Enter'!"