Cosmopolitan: Your Wishes Will Come True!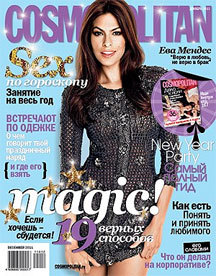 The holiday issue of Cosmopolitan magazine is on sale now. The issue, with a cover featuring actress Eva Mendes, is devoted to preparations for New Year's.
The special section "It's the Night" offers all the details, costumes and entertainments needed for seven different types of parties, from Gypsy and Irish merrymaking to a hip-hop party. Cosmo also tells readers how to offer meaningful holiday toasts, which foods to prepare and how to serve them for the year of the dragon, and explains how to construct imaginative handmade gifts from the heart. The special section also describes how to reduce New Year's preparations from 310 hours to just 55 hours. What's more, editors offer holiday recipes taken from literature and four games that can be played by one person or by everyone present: a Cosmo version of "crocodile," quest, wanderers, and questions and answers.
"Magic!" — another special section in the December issue — reveals everything about dreams and how they come true. The material describes three different schools where students learn how to make their dreams come true using scientific methods, folk methods and rituals that must be performed prior to the new year to improve one's fate. It also includes information about fortune tellers and soothsayers — why we visit them and what they can do for us — as well as what to do if your dreams come true for others.
Also in this issue:
Charity: choose your way to help others;
Is it easy to be a muse? Is it tough to endure office parties? Is it hard to accept that we are sometimes ashamed of our loved ones?
Details in a relationship that are usually not discussed openly and the little things that everybody remembers differently;
New Year's quarrels and their causes;
Word of mouth: observing the way rumors and gossip have a way of transforming on their own;
Thirty-three pleasures, in alphabetical order, that we never tell others;
Miracles in public announcements: how they change lives;
Everything about Christmas Trees, gifts for car enthusiasts and why amateurs are better than professionals;
Amazing corporate gifts.