Grazia and Schumacher Team Up for Cocktail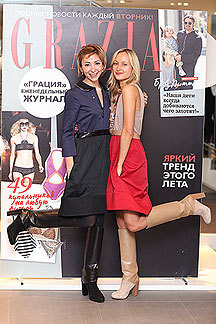 The Schumacher boutique in the Atrium shopping mall celebrated its first anniversary on Nov. 11 with support from Grazia magazine.
In the year since it opened, the boutique featuring products by the German brand Dorothy Schumacher has managed to capture the attention of fashionable Muscovite women of all ages — all hurried to celebrate the anniversary of their favorite brand, give their best wishes to boutique owner Ksenia Kobeleva and to receive complimentary gifts from Grazia magazine and Schumacher.
Strolling around the boutique with a glasses of bubbly, guests viewed and tried on clothing from the winter collection inspired by '70s fashion icon Bianca Jagger. For everyone wanting a complete makeover, hair stylists were ready to weave the trendy braids of the season, and Grazia editors explained how and with what to wear the classic white blouses that Dorothy Schumacher herself loved so much.
DJ Denis Smagin — a favorite of visitors to the Klava and Denis Simachev bars in Moscow — set the tone for the party. Ru.tv channel VJ Slava Nikitin entertained the guests with jokes. Party attendees included Grazia editor-in-chief Alyona Peneva, actress Anastasia Makeyeva, Natalya Kosteneva, figure skater Anastasia Grebenkin, Love Boat DJ Eva Vostroknutova and many others. All of the guests waited eagerly for the three-tiered cake decorated in the inimitable Schumacher colors — pale beige with contrasting turquoise trim.
The party was a hit, but Schumacher will be meeting her fans again when a new boutique opens at the Crocus City Mall. Designer Dorothy Schumacher will attend that event to meet and greet the guests personally.