Harper's Bazaar: New Year – New Fashion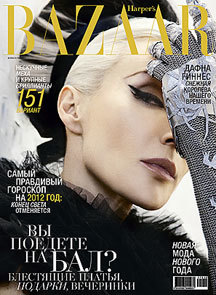 The December issue of Harper's Bazaar magazine features Daphne Guinness — the snow queen of our day — in a Chanel dress.
In this issue:
The new fashion of the New Year. This winter, women are wearing hot and sizzling shades of red — from scarlet to cherry. Try on a white collar with black lace. Exciting fur and large diamonds — in 151 variations.
Lanvin creative director Albert Elbaz explains the meaning of luxury, New York restaurateur Isaac Correa discusses his approach to the restaurant business in Moscow and young art dealer Olga Leonidova talks about success and why she likes living in London.
The 120 best outfits from the House of Dior archives in a new book by photographer Patrick Demarchelier.
A report on the Barcelona wedding of Yana Lebedova and Anton Sikharulidze.
The most honest horoscope for 2012: the end of the world is canceled.
Charity Bazaar 2011: a report on the annual Harper's Bazaar magazine charity auction.
A guide to the brightest events and the hottest parties of the season according to Harper's Bazaar.
Harper's Bazaar — fashion without rules.