Grazia and Karen Millen Make Fashion Cocktail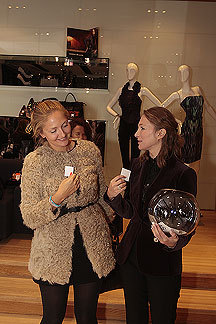 Grazia magazine and the Karen Millen brand teamed up for a fashion cocktail on Nov. 15, throwing a major bash at the store on Kuznetsky Most and offering guests loads of surprises and gifts in honor of the brand's 30th anniversary.
Fashionable Muscovite ladies checked out shoes and accessories from the anniversary collection. Anastasia Virganskaya, Ingrid Olerinskaya and Aglaya Shilovskaya modeled outfits for the special Grazia project, and the raffle was the highlight of the evening. Luck was with Svetlana Ta who won the grand prize — a professional photo session directed by Grazia senior fashion editor Alisa Zhidkova. A second lucky winner received a Karen Millen dress and a third took home a clutch. But even many of those who did not draw a winning ticket had reason to keep on smiling as they danced to the sizzling sounds served up by DJ Tanya Darguzhas, who was responsible for the evening's musical entertainment.
The festival was a great success! Grazia appreciated the opportunity to meet with readers and offers its heartfelt congratulations to Karen Millen on the occasion of the brand's anniversary!