Beauty Day from Cosmopolitan Beauty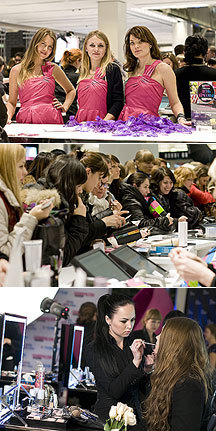 Cosmopolitan Beauty found an unusually exciting and unforgettable way to celebrate the date 11/11/11 by holding the Beauty Day by Cosmopolitan Beauty festival. Even the number of guests matched the magic number — 11,000 people.
The festival was held in the Rive Gauche shop in the Tsvetnoi department store. All the women attending the event received discounts on cosmetics and gifts, and each one who made a purchase of 1,000 rubles or more received a Rive Gauche VIP shopping card. And all of the guests were able to visit beauty bars of all kinds.
Beauty Day by Cosmopolitan Beauty attracted not only ordinary buyers, but also such stars of show business as Sati Casanova, Yekaterina Volkova, Polina Gagarina, Nastya Zadorozhnaya, Masha Tsigal and Arina Perchik. The ladies gladly shared their beauty secrets and advice for staying young with event guests and took the opportunity to make a few purchases of their own. Muza VJ and model Yulia Antontseva acted as mistress of ceremonies, and DJ Fenix, a regular at one of the most famous Moscow clubs, treated visitors to a hip DJ set that he dedicated to all of the women at Beauty Day by Cosmopolitan Beauty.
According to Cosmopolitan Beauty editor-in-chief Natalya Sherstyuk, "This was a true celebration of beauty! Now it is perfectly clear: The young women who read Cosmopolitan Beauty are really passionate about the topic of beauty and are willing to spend time and money on their appearance. This is a very receptive and appreciative audience."
The Dior brand served as cosmetics partner to the event and officially unveiled its Les Rouges d'Or glistening gold Christmas makeup collection at the festival. Dior makeup specialists and consultants offered beauty secrets and gave visitors complimentary express makeup and manicure applications using the Dior glistening gold makeup collection.
Another exclusive feature of Beauty Day by Cosmopolitan Beauty was a 2-meter long pair of dress shoes constructed on the basis of a sketch by designer Giuseppe Zanotti.
Cosmopolitan Group marketing director Lyudmila Agafonova said, "We are proud of Beauty Day by Cosmopolitan Beauty. We were able to offer our readers the deepest possible discounts on cosmetics and organized a wide selection of complimentary beauty bars. What's more, we are happy that the Dior brand chose our event as the venue for an exclusive presentation of their fresh collection for the new year. The success of the event this fall has inspired us to plan more festivals for women in several Russian cities."