Results of Charity Bazaar 2011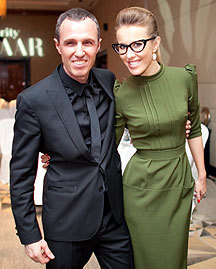 Harper's Bazaar magazine and British concierge club Quintessentially hosted their fourth Charity Bazaar auction on Dec. 5 at the Lotte Hotel in Moscow. The event raised 25 million rubles ($792,300) for charitable purposes.
The sum was reached by selling 15 lots offered by Chanel, Dior, Louis Vuitton, Stephen Webster, Guerlain, Podium Jewelry, Prima Exclusive, Akillis, Prive Jewelry, Je T'aime, Lublu Kira Plastinina, as well as original lots from BMW, Bosco Sport, the Quintessentially concierge club and Natalya Vodyanova. The 25 million rubles raised is approximately twice what was collected at last year's Charity Bazaar and almost three times the total donated two years ago. The money collected at Charity Bazaar 2011 will be given to three charitable organizations — Natalya Vodyanova's Naked Heart foundation, Miroslava Duma's Planet of Peace foundation and the Lifeline foundation.
Charity Bazaar 2011 hosts Igor Wernick and Ksenia Sobchak contributed greatly to the event's success. The assembled guests included Snezhana Georgiyeva, Sofiko Shevardnadze, Viktoria and Anton Borisevich, Nadezhda Obolentseva, Oksana Maximova, Yulia Kosova, Tatyana Melnikova, Viktoria Shamis, Marina Kostina, Tatyana and Anton Zharkov, Ksenia Sukhinova, Stella Aminova, Ksenia Chilingarova, Irina Kurbatova, Yekaterina Grinchevskaya, Alyona Akhmadullina, Yulia Bordovskikh and Alexei Kravtsov, Ida and Mark Lolo, Marina Dolidze, Natalya Goldenberg, Svetlana Bondarchuk, Svetlana Zakharova, Katya and Sonya Gaidmak, Miroslava Duma, Anastasia Romantsova and many others. The evening was notable for the appearance of the art group Soprano 10. A film about the mission of Charity Bazaar produced by Lis Channel was also shown at the event.
The Charity Bazaar 2011 auction was held with support from event general sponsor BMW. The Baileys alcohol company acted as official partner to the event. The Clinique cosmetics company also served as a partner. Roberto Coin and Da Vinci prepared a "gastronomic" surprise — a ring with a blue topaz from the Capri Plus collection that was hidden in one of the desserts. For the third time, the Imperia auction house conducted the bidding and took responsibility for transferring the money raised to the charitable foundations so that several dozen young children would gain hope for happier and healthier lives.