Cosmopolitan in January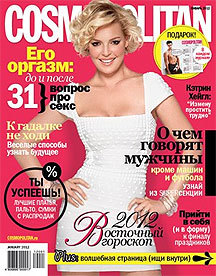 The January issue of Cosmopolitan features Katherine Heigl. In this issue:
In the special "I Said!" section editors finally find out what men really say. And to this end, the editors:
Spoke with all of the members of the Quartet I;
Sent a female journalist to a men's forum to try to win acceptance as one of their own;
Created a "his and hers" dictionary of important terms that will help women communicate with their loved one, whether he is a gamer, a hunter or a soccer fan.
Left a hidden baby monitor in the company of a group of men and eavesdropped on their conversation.
Under the "You and Him" heading: Palingi — strange misogynistic people; how ordinary people — as compared with psychologists — comment on controversial situations in relationships; oldest, youngest, middle or only child — what is important is which child you and your loved one were in your families and how that affects your lives as adults.
In the "Your Life" section: An Internet-addicted author describes going a full week without being connected to the World Wide Web; frost-resistant girls talk about their hobby — winter swimming; some women completely change their lives on Jan. 1, while the rest change their approach to divination and telling fortunes with teabags, elevators and songs on the radio. In the "Your Career" section, readers will learn about working in international companies and cheerleading as a profession.
A special gift awaits January issue readers — a 2012 calendar with quotes by men.