Harper's Bazaar in January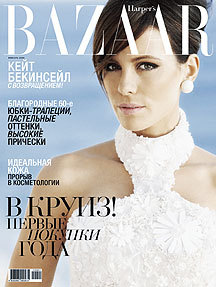 The cover of the January issue of Harper's Bazaar features Kate Beckinsale in a Blumarine dress. The famous actress describes what she considers important besides her career and explains why she knows Russian.
Read this January:
Cruising! The first purchases of the New Year.
'60s Fashion: miniskirts, pastel shades, tall hairdos and floral prints.
Keanu Reeves, Kate Bosworth, Chloe Sevigny and Sir Ben Kingsley recreate iconic scenes from Martin Scorsese films.
Perfect skin. A breakthrough in cosmetology and a new effective method of rejuvenating skin.
Legendary supermodel Patti Hansen discusses her love, drugs and rock 'n' roll, television program hostess Darya Spiridonova on old books for her son, Lev and Hovhannes Poghosyan on how to draw positive conclusions from life's vicissitudes.
Everybody to the beach! The Maldives and a guide to the Philippines: the best hotels, spas, beaches and coral reefs.
A guide to the outstanding events of the winter and the hottest parties of the season according to Harper's Bazaar.
Harper's Bazaar — fashion without rules.