Harper's Bazaar at Jewelry House 5 o'Clock Tea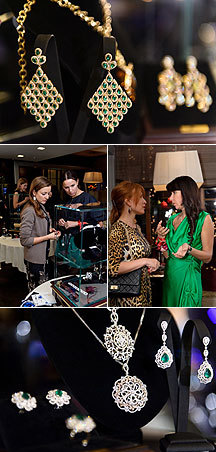 Harper's Bazaar magazine acted as media partner to a ladies' holiday — the 5 o'Clock Tea jewelry house. Prima Exclusive jewelry house owner Bella Kocharyan and socialite Irina Chaikovskaya held the event for the first time.
The young women invited their girlfriends to the Aist restaurant in the days before the long-awaited New Year's holiday to acquaint them with stunning masterpieces by renowned Italian jewelers and an experimental collection by young American designers that is on exhibit at the Prima Exclusive house for the first time. The luxuriant and radiant jewelry kept the sophisticated society ladies enthralled all evening. Oksana Maximova, Olga Panchenko, Nadezhda Obolentseva, Ida Lolo, Yana Przhevskaya, Yelena Kuletskaya, Irina Volskaya and many others tried on their favorite jewelry at their leisure, discussed the outfits they had purchased specially for the upcoming holiday and chose brilliant matching earrings from the latest Prima Exclusive collection Colorful Dreams.
The real "gem" of the evening was undoubtedly the one-of-a-kind extravagant chandelier-style earrings of rough-cut rose quartz in ornate lines and inlaid with cognac diamonds. Several women immediately wanted to wear the luxuriant jewelry piece on New Year's Eve, but the honor went to only one — Maria Pronenko. The Admire wedding salon owner loved the New Year's diamond "wonder" so much that she purchased one more item from the jewelry house's new line — earrings of turquoise and pink sapphires. Oksana Maximova opted for classic earrings made from emerald flakes in diamond pavé.
The festive decor of the Aist restaurant, the boutonniere of live flowers and the pleasant surprises from Guerlain helped the evening's guests enjoy a New Year's holiday mood.