Grazia Christmas Party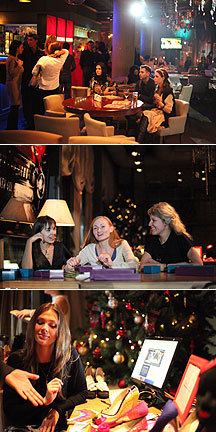 Young designers and famous brands presented the fashionable public with the most striking and unusual New Year's clothing accessories as part of the Change for Christmas event held by Grazia and Redd's in the Blackberry cafe. Among the featured items were:
Fine jewelry crafted from pearls and semiprecious stones from the Christmas collection of the Die_blonde;
Whimsical handmade pompon hats and toy brooches, ear covers and headbands from Galolbo;
Shoes from world-renowned fashion brand Geiuseppe Zanotti Design;
Shoes of Prey — custom footwear made to the customer's specifications: from heels and pads to color, materials and trim;
Handmade bags from St. Michel.
Snezhina Kulova — fashionista, face of the MTV Trendy program and hostess of this event — invited everyone to take part in the Speedy Fashion marathon. All the guests who had brought vintage or handmade jewelry had five minutes to check out and exchange jewelry with each other.
Redd's and Nadia Krugova — stylish accessories expert and Die_blonde designer — conducted a workshop on making original jewelry. Krugova also chose the most enthusiastic participant from the Speedy Fashion event and presented her with a complimentary gift from the Die_blonde brand.
The evening's guests included Lyanka Gryu, Daniil Fedorov, Anastasia Shapovalova, DJ Yeva, Arseny Vlasov, fashion bloggers, Facebook subscribers to the Grazia Club and fans of the Die_blonde brand.