Socially Active Media in SIM Publications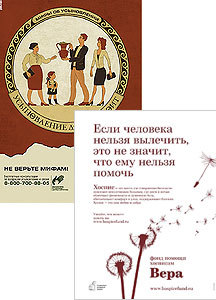 A panel of experts in the latest Socially Active Media competition has chosen the winners: the Volunteers and Help for Orphans charitable foundation and the Vera (Faith) fund providing assistance to hospices.
Promotional materials for the nonprofit organizations will be displayed at no charge in Sanoma Independent Media (SIM) publications. The ads were developed by leading creative design agencies.
The Socially Active Media program helps nonprofit organizations make themselves known in the media and enables readers to learn about effective and worthwhile charitable initiatives. The media exposure has prompted more people to visit the organizations' websites and to contribute to their activities. The Social Active Media program is administered by CAF Russia.