iPad Version of Harper's Bazaar Among Top-Rated Apps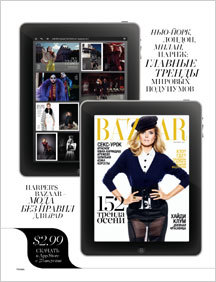 On Jan. 26, Apple released a list of the most popular films, games, books and applications issued in 2011. The iPad version of Harper's Bazaar took the top spot and was included among the App Store Staff Favorites.
One year ago, in honor of its 15th anniversary in Russia, one of the world's most authoritative fashion magazines presented its fans with the first Russian-language fashion application for the iPad, thereby giving them a fresh look at fashion shoots, interactive magazine headings, the ability to share selected material on Facebook and other multimedia effects from the state-of-the-art publication.
Now there is a real demand for the iPad version of Harper's Bazaar in the changing world of fashion. In a sense, the application has surpassed the print edition of the magazine due to its convenience and the fact that users can enter a virtual showroom and study the details of selected items at their leisure. What's more, the electronic version provides access to everything at once: videos, interviews and exclusive photos not found in the print edition.