Grazia Holds Open Office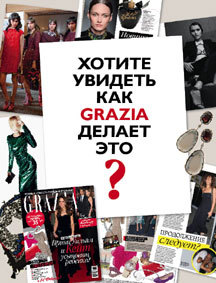 Grazia turns 5 in 2012 and to celebrate, the magazine will take the unprecedented step of "opening its doors" to give readers the opportunity to see how a new issue is created.
The magazine's editors will meet and greet the public in the main atrium of the Tsvetnoi shopping mall from noon until 8 p.m. on Feb. 18 to 20. Visitors will have a chance to see how editors work and to speak with them in person. Once every hour, members of Grazia's fashion, beauty, style and lifestyle departments will stop working to chat with readers and answer questions on every subject of interest to them.
Onlookers will also see how the editorial board discusses the new issue and chooses which leading stories and people to feature. In addition, they will see how casting for models and fashion shoots are conducted, and how stylists turn models into icons of fashion. A number of celebrities will visit the open office during the event to give interviews and chat with Grazia editor-in-chief Alyona Peneva. At the close of each workday, guests can join the staff over a glass of champagne and enjoy refreshments provided by the Farmers' Market.
Everyone unable to make it out to Tsvetnoi for the open office can follow developments on the Internet at woman.ru and buro247.ru.