A Date with Cosmopolitan Petersburg Magazine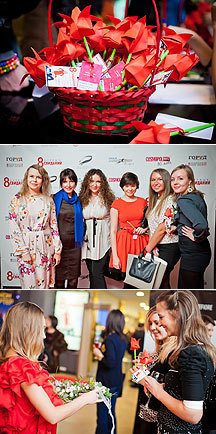 On March 7, the day before International Women's Day, Cosmopolitan Petersburg magazine invited friends and business partners to a premiere showing of the romantic comedy "8 First Dates" at the most fashionable movie theater in town: Formula Kino Galereya.
Also attending the date with the magazine were the film's producers and leading actors: Oxana Akinshina, Ekaterina Varnava, Ekaterina Gordetska, Andrei Radko and Marius Waisburg. Before entering the screening room, the high society guests and celebrities found themselves immersed in the atmosphere of the film: romantic music, a sea of flowers and airy desserts, the pleasant taste of Montefiori wine and the nonalcoholic drink Ega. The recreation of the film's ambience included special photo zones: a stylized couch, the main "heroine" of the movie, and a French cafe provided by the Provence company. The highlight of the evening was an exciting performance by Galla Dance.
Cosmopolitan videos from its spring advertising campaign played throughout the evening on plasma screens mounted in the hall.
Cosmopolitan Petersburg celebrates its 10th anniversary in 2012. The spring film premiere was the first in a series of parties that will be held in honor of the event.