April Issue of Cosmopolitan for the iPad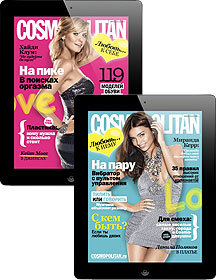 The April issue of Cosmopolitan was released in two volumes, and that means readers will enjoy twice as many articles, interviews and supplementary materials.
In addition to the traditional articles in the iPad version, readers will find a video interview with Danila Polyakov, a tour of Star City with real astronauts, the most convenient shopping and unusual workshops.
What's more, a lottery of unique jewelry will be held exclusively for readers of the iPad version of Cosmo. Contestants must download the issue, find the page for the contest, match the pairs in the on-screen picture and leave their contact information in a specially provided form. The quickest and most attentive participants will receive prizes. The results will be published in the May issue of the iPad version of the magazine.