Party Honors Grazia 5th Anniversary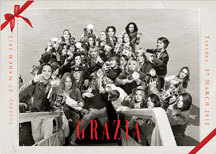 Grazia magazine threw a major party to celebrate its fifth anniversary in 2012. The magazine brought together the brightest Moscow stars for a party at the Dom Carlo restaurant on March 27.
Yulia Kovalchuk, Svetlana Ivanova, Yekaterina Vulichenko, Nadezhda Mikhalkova, Rezo Gigineishvili, Alisa Grebenshchikova, Yekaterina Volkova, Andrei Grigorev-Applonov, the Frabrika group and many other celebrities gathered to congratulate Grazia on its anniversary. All of the guests were instructed to follow a strict dress code: passionate red for women and discreet black for men. In order to comply, many of the stars first stopped by a presidential suite at the Marriott Aurora Hotel where Dior makeup artists and Aldo Coppola stylists helped with makeup and hair-styling and Grazia stylists selected evening outfits from leading brands for them to wear. When the celebrities were ready, they were driven to the party at the Dom Carlo restaurant in BMW automobiles.
The warm atmosphere of the gathering was evident at the very entrance to the restaurant. The inner courtyard was decorated in the style of a central square in a small Italian town — replete with stalls packed with cheeses, sausages, fruits and vegetables and manned by vendors who entertained guests and offered samples of their wares. Past Grazia covers featuring scenes of Italy added a touch of authenticity to the decor.
As they entered the restaurant, guests were greeted by actors impersonating Sophia Loren and Marcello Mastroianni and by members of the Galla Dance studios who danced with patrons to the music of a jazz band. The friendly owners plied guests with pizza, pasta and Italian wine from the Alianta Group. The Adriano Chelentano project opened the evening's music program. The striking look-alike performer sang the famed Italian's most popular songs. Many of the guests, included the celebrities, gathered to listen to the singer and to take photographs as mementos.
As a further surprise, guests were treated to a film featuring a girl named Grazia who time-traveled through fashion galleries past and future. The show ended with Italian actress, screenwriter and trendy DJ Asia Argento. Guests danced to the hot rhythms of her music sets the remainder of the evening.
Everybody left the party in high spirits, making the celebration an unqualified success!