"Vestnik SIM" Voted Best Client Newspaper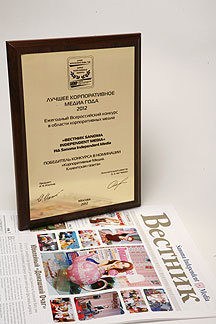 "Vestnik Sanoma Independent Media", a newspaper for advertisers with the Sanoma Independent Media publishing house, received an award in the nationwide contest: Best Corporate Media of 2012. The publication won in the category of Corporate Media – Client Newspaper.
The Russian Association of Communications and Corporate Media Directors (AKMR) conducts the annual Best Corporate Media competition. The awards ceremony was held on April 4 as part of the Ninth Annual International Conference held by AKMR, this year titled "The role of corporate communications and media in the strategic management of companies." The winners were chosen during a meeting of the contest's advisory board. The winners were given certificates attesting to their high level of professionalism as creators of corporate media.
This is the fourth time that the Sanoma Independent Media publishing house has been honored in the AKMR competition. In 2006, the corporate newspaper of the publishing house took the Best Corporate Media contest honors in two categories: Corporate Newspaper (in Media) and Best Printing. It also won Best Client Newspaper in 2010.
"Vestnik Sanoma Independent Media" (called Sanoma Independent Media Newspaper since 2011) has been published since 2002. Produced by the SIM marketing research and corporate communications department, the newsletter is published 10 times per year (monthly, with double issues in July and December) and has a print run of 790 copies. The newsletter is distributed to major advertisers and business partners of the publishing house, advertising agencies and media distributors. Nadezhda Kukebayeva serves as editor-in-chief.