"They Need Your Help" - SIM Charitable Program Turns 7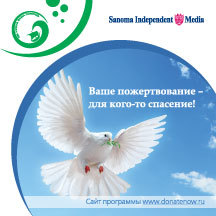 "They need your help," the charitable donations program run by Sanoma Independent Media, turned 7 this May.
Under the program, each employee can make a donation online at https://www.donatenow.ru. Since 2005, employees have been providing aid to various categories of the needy: orphans, the elderly, children and adults with serious illnesses, disabled children and stray animals. Sanoma Independent Media supports the program by providing matching funds each month. In this way, the charitable program has raised more than 22 million rubles ($730,000) since its inception. Employees have also volunteered for worthy causes several times over the years.
One SIM volunteer, Olga Yefanova, described her participation in the "They need your help" program. "Given our frantic pace of life and work, this program allows me, or any SIM employee, to take part in charity by making private donations easily and quickly (which is important for me) and regularly (which is important for those whom we help). Without a doubt, it's great when the company you work for supports charities and volunteer initiatives by employees. In my opinion, this is one of the many wonderful aspects of our company."
The "They need your help" charitable program is administered by the CAF Russia Foundation.