Harper's Bazaar in June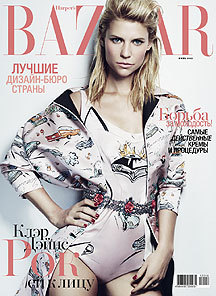 American actress Claire Danes in a flashy bodysuit and Prada coat graces the cover of the June issue of Harper's Bazaar.
In the June issue:
From the sea foam: a 21st-century mermaid's wardrobe – silvery satin, beads and sequins;
Perpetual motion machine: Sting's wife Trudie Styler talks about her theater work and new Hollywood company;
Retrospective: Miranda Kerr as a pin-up girl;
Jack of All Trades: Harper's Bazaar chose the five best design bureaus;
Urban Legends: pre-fall collection from Dior;
Lucky star: Yekaterina Klimova describes what she still needs for complete happiness;
Enchanting craftsmanship: the magic of dresses by Von Vonni;
Guide to cultural events in June and the hottest parties of the season according to Harper's Bazaar.
Harper's Bazaar – fashion without rules.