Social Advertising in Sanoma Independent Media Publications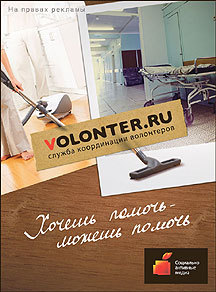 Free advertising for non-profit organizations chosen as winners in the latest Socially Active Media competition will be placed on the pages of Sanoma Independent Media publications. The winners are: the Vozrozhdeniye charitable organization helping children with rheumatologic disorder, the Volunteer Coordination Service and the Miloserdiye aid service of the Russian Orthodox Church.
The Socially Active Media program enables the public to learn about the work of specific non-profit organizations and to get involved in solving social problems. Over the years that the program has been in operation, it has held 14 awareness campaigns for various NGOs resulting in a 30 percent increase in visits to their websites, a 50 percent increase in private donations and a significantly greater influx of volunteers. The Socially Active Media program is administered by CAF Russia.