Harper's Bazaar in July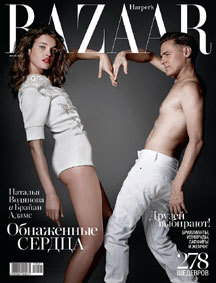 Natalia Vodyanova and Bryan Adams are featured on the July cover. The Russian supermodel and Canadian musician came together under the auspices of Harper's Bazaar Russia.
The July issue includes:
278 masterpieces: diamonds, emeralds, sapphires and pearls.
Adult games: a joint project of Natalia Vodyanova, Bryan Adams and Harper's Bazaar magazine.
Super shine: Van Cleef & Arpels jewelry in the Jewels ballet.
Art on the podium: restoration of Leonardo da Vinci paintings, a competition for young artists and other initiatives by Salvatore Ferragamo.
50 main characters: the most popular colors in precious stones.
School of Rock: Liv Tyler shares what she learned from the three main women in her life: grandmothers, mothers and aunts.
Summer day: bright colorful dresses, pleated skirts and graphic prints.
An ocean of Elsa: an homage to the legendary work of Elsa Schiaparelli.
A guide to cultural events and the hottest parties according to Harper's Bazaar.
Harper's Bazaar — fashion without rules!