Popular Mechanics at Red Bull Soapbox Race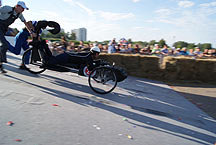 The first Russian soapbox derby was held on July 1 at the bicycle race track at Krylatskoye, bringing together more than 30,000 spectators eager to watch 60 homemade "fireballs" from across Russia compete. The Popular Mechanics team completed the race- course in just 42 seconds, a full eight seconds ahead of the second place finisher, setting a new speed record.
The 530-meter asphalt cycling track with a 12 percent gradient was transformed for the day into a bumpy rural road, and 2,500 hay bales with a combined weight of over one ton were delivered especially for the Red Bull Soapbox Race. Several teams were unable to cope with the technical requirements of the race — the vehicles could not exceed four meters in length, two meters in width or 80 kilograms in weight — coupled with the special obstacles erected: 3 jumps, an 'S' curve and counter-gradients. Four of the 60 entrants were not even allowed to compete.
The Popular Mechanics team was the only one to traverse the 'S' curve and counter-gradient with ease, reaching speeds of 70 km per hour (42 mph). A video of the run by the Popular Mechanic team can be viewed at www.popmech.ru.