Cosmopolitan in August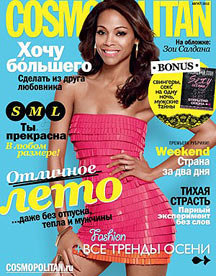 The August issue of Cosmopolitan includes a special bonus: a sexy section with the 35th opening of the season, daring adventures and men's secrets.
Also in this issue are the latest and hottest summer topics. In "At a Resort," Cosmo shares the best destinations for summer romance and the best places to get married. In the article "Women in Summer," the magazine offers advice on how to be happy, even without a vacation, a man or good weather.
In the new Weekend section, Cosmopolitan fills readers in on how to see a country or city in two days. The Travel section includes special material: all of the best rendezvous points and inside tips you need to know when visiting different countries: where to go, what to eat and the most amazing places of interest.
Also in this issue: friendship won … and so did love – how to turn an old friend into a new lover, plus all of the trends of the fall and winter 2012-13 season.
The August issue went on sale July 10.