Cosmopolitan: The World's 100 Top Bachelors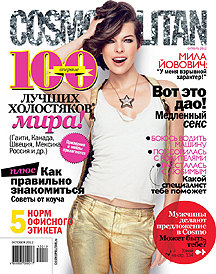 For the first time ever, the world's 100 top bachelors are featured on the pages of Cosmopolitan — and they want to make your acquaintance. This issue also contains a special section on the search for true love, the awkwardness of first encounters, flirting and the right way to meet men this fall. Also, several young men extend proposals right from the pages of Cosmo, and a new section, "I'm going searching!" — a guide to the best hangouts for cavaliers.
Also in this issue:
Heading premiere: everything a real shopaholic needs to know in Fashion News, and iconic things in the It's Worth It column;
Mix of ideas: a quick way to overcome writer's block;
Parental smoke: an easy way to quit smoking;
A happier workplace: the rules of office etiquette;
Years of experience: getting along with coworkers of different ages;
Experiment: eco-sex and its possibilities.
The release of the October issue of Cosmopolitan magazine will be supported by a national advertising campaign. Commercials will air on the TNT, Muz-TV and MTV television channels and on the Love Radio, Energy and Shokolad radio stations. Promotions will also be held at Moscow's largest shopping centers.
The issue went on sale Sept. 11.