Cosmopolitan in November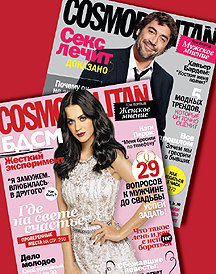 The November issue of Cosmopolitan once again consists of two volumes, and this time they are devoted to women's and men's opinions. Javier Bardem appears on the cover of the men's issue, and Katy Perry is featured on the women's.
In the women's volume:
I'll ask him: 29 questions to ask your fiancé before the wedding;
The hidden secret of married life: What if you are married but love someone else?
Delivery room for two: experiencing childbirth together (find the male viewpoint in the men's issue;
Cosmo experiment: going together to a boxing match, yoga class, sports bar, fancy restaurant, fishing and a photo session.
Also:
Freudian fun: Freudian slips and other tricks the subconscious plays on us;
Effortless: What is laziness, and how can we avoid dealing with it?
Return to the city: How can a former downshifter readjust to life in the metropolis?
Shopping control: types of shopaholics and their various behaviors;
Dear friend: what to do if a good friend is richer than you (and vice versa);
Young business: building a successful business by the time you're 30;
BDSM: an experiment (find the male opinion in the men's volume);
In the men's volume, women readers will find a special "In Response" section in which men give detailed and candid answers to the main questions women ask, including:
Why doesn't he call?
Whom does he want to marry?
Why doesn't he leave his wife?
Who is in charge, the man or the woman?
Why doesn't he like to clarify the relationship?
Does it count if you only cheat once?
Also, the male perspective on real relationship issues such as:
All in the past: Why do they talk about the ex?
Delivery room for two: experiencing childbirth together;
He is not alone here: what happens when you move in with your boyfriend;
Cosmo experiment: for the first time ever, a good man becomes the ideal man for a week;
Are you joking? Men talk about women's sense of humor;
Working with children: when a woman is boss at the office and at home (be careful not to confuse the two).
The two-volume November issue is supported by an advertising campaign that includes outdoor advertising as well as spots on the MTV and TNT television channels, on the Europa Plus, Love Radio, Energy and Chocolate radio stations and in the press, the Internet and online social networks. Commercials will also run in the Formula Kino and Karo Film movie theater chains. Table tents with the image of the November issue will also be on display in leading coffee shops.
The November issue of Cosmopolitan was released for sale on Oct. 9.