Popular Mechanics in November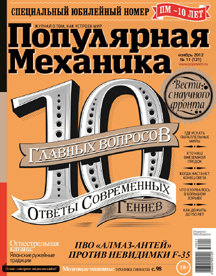 The anniversary issue of Popular Mechanics features "10 Key Questions" about the universe with answers from 10 eminent scholars who were asked: Where are the parallel worlds found? Who were our extraterrestrial ancestors? When will the end of the world come? Exactly what exploded in the Big Bang? How to live to be 150 years old? PM editors traversed almost the entire planet to speak with these modern geniuses. The journey was worth it: These 10 interviews produced a "concentrate" of information that exemplifies why Popular Mechanics magazine was brought into existence.
The "Science" section contains an article about brain machines capable of putting a patient into a sleeping state or into a trance. In Weapons, readers will find out just how "invisible" the latest U.S. stealth aircraft really is and learn the exotic and fascinating history of Japanese katana swords that doubled as guns.
Also in this issue:
In pursuit of the miracle engine;
The champion of imitation;
Flying in the dark;
Do we need the N-1, the "Tsar of Rockets"?
Man in the nylon mask;
A four-wheel chopper;
Science fiction short: "Nothing to talk about."