Grazia Young Designer Contest Finals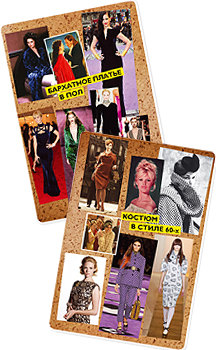 The Grazia Young Designers contest held its finals competition on Oct. 26 at 5:30 p.m. as part of Volvo Fashion Week in Moscow, with the top 15 participants in the contest staging a showing of their work. In addition, Grazia continued its collaboration with Aurora Fashion Week Russia, establishing a special nomination "Inspired by St. Petersburg," with 10 of the finalists in that contest showing their work on Oct. 19 at the Aurora Fashion Week in St. Petersburg.
This year's contestants were encouraged to experiment with this season's trends by creating a 1960s-style outfit and a velvet evening dress. Editors were faced with the difficult task of selecting the best 15 sketches from among the many that were submitted. The jury included Alyona Peneva (Grazia editor-in-chief), Yury Shtromberger (Volvo Fashion Week in Moscow general director), Artyom Balayev (Aurora Fashion Week Russia general director), Natalia Dubovaya (Redken director of education), Anastasia Sartan (TrendsBrands.ru founder) and Andrei Abolenkin (MKhPI Moscow Institute of Industrial Arts specialist).
The winner of the finals competition will be given the opportunity to present a complete fall-winter collection at the Volvo Fashion Week in Moscow in 2013, and the outfits and dresses created by the young designer will be sold on TrendsBrands.ru.
But this is not the only prize that organizers have in store for participants. This year, the expert jury also includes successful Russian designers Alena Akhmadullina, Alexander Terekhov, Katya Dobryakova and Yulia Kalmanovich, who will each provide internships to their favorite young designers in the contest.
As an added bonus, one finalist will receive a year of studies at the Moscow Institute of Industrial Arts. Starting on Oct. 27, all of the clothing from the fashion show will be sold at the Grazia pop-up store in the Trends Brands corner of the Tsvetnoy department store.
The finalists in the Young Designers contest were Alyona Lantukh, Voldemar Kvantaliani, Olga Kapitonova, Zhanna Mochalova, Viktoria Irbaiyeva, Alexandra Vanyushina, Anastasia Marova, Yulia Savchenko, Valeria Nikolicheva, Alexei Skripnikov and Gala Syslova, Lilia Latypova, Sergei Stifonov, Maria Maiyers, Olga Snezhkova and Vasilisa Chesnokova.
All of the outfits were sewn under the guidance of Owls Studio creative director Yevgenia Nikitina. The fashion show was produced by Yevgeny Blasov. Footwear was provided by the Centro brand, and the models in the show took part courtesy of the Fashion agency.
Grazia has been holding its Young Designers contest for several years now. Many finalists go on to make careers for themselves in the fashion world by creating their own collections, organizing showings and signing contracts with prominent retail outlets.