Time Travel with Harper's Bazaar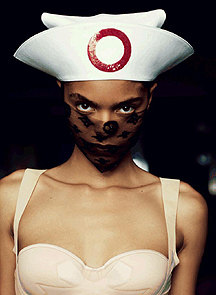 Harper's Bazaar and Louis Vuitton present the Time Travel photo project by Natalia Alaverdian and dedicated to the 10th anniversary of Louis Vuitton in Russia. The November issue of Harper's Bazaar will feature all of the iconic images created by March Jacobs during his 15 years of collaboration with the house as captured by Natalia Alaverdian, the magazine's fashion director.
Louis Vuitton has been working on the market for 143 years, and Marc Jacobs joined the company as artistic director in 1997. He was given a task never before undertaken by the house — to create a collection of ready-made men's and women's clothing along with a line of fashion accessories including shoes and handbags.
The Louis Vuitton style — which March Jacobs has carefully honed over the years — varies from season to season. Women who follow that style are always in the groove and current with the times. Jacobs easily and naturally finds a path between extremes and ventures into every experiment without imposing preconceived ideas on the final result. His innovations continue to be based "more on fits of inspiration than on calculation. After all," Jacobs said, "fashion is not a science." However, his designs are firmly grounded in reality, and he constantly strives to make his creations accessible. "For some people, life has no meaning without fashion, but for me, fashion has no meaning without life."
In addition to the November issue of Harper's Bazaar, the photos by Natalia Alaverdian are on display at the Louis Vuitton boutique at 10/18 Stoleshnikov Pereulok from Oct. 31 to Nov. 4.