McHappy Day with Cosmopolitan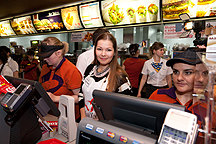 Cosmopolitan editor-in-chief Alla Badanina took part in the annual McHappy charity drive by McDonald's.
On Nov. 20, famous actors, athletes, politicians and celebrities manned the cash registers at the McDonald's on Pushkinskaya Street. Every customer buying French fries or wire rings designed by children automatically became participants in the charity drive.
All of the earnings were donated to Russia's first Ronald McDonald House. The center will become a true "home away from home" for families whose children are undergoing long-term treatment in the Children's Hospital in the republic of Kazan. Comfortable living arrangements will be constructed on the grounds of the hospital so that parents can remain close to their children during treatment.
The McDonald's charity drive has been held on World Children's Day annually for 10 years. In that time, more than 100 million rubles ($3.2 million) has been donated to the Ronald McDonald House charitable foundation for the construction of 12 family rooms in hospitals and for the purchase of needed equipment and furniture for shelters, orphanages and rehabilitation centers for children with physical and mental disabilities.