Cosmopolitan Invites Readers to Ice Skating Rink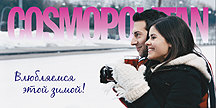 Cosmopolitan magazine is serving as the media partner for the Russian Winter chain of ice skating rinks and invites readers to enjoy the winter along with their favorite publication.
A branding banner for the magazine will hang all winter over the chain's ice skating rink on Petrovka Street in Moscow. The February issue of Cosmopolitan Shopping will also contain a special coupon good for a free ice skates rental at the rink.