New Appointment at Sanoma Independent Media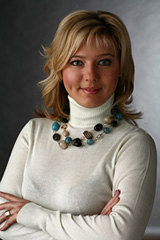 Elena Razumova will join the Sanoma Independent Media (SIM) Board of Directors as the General Director of Fashion Press, a division of SIM. Mrs. Razumova will also continue in her capacity as General Director of Mondadori IM.
Elena Razumova graduated from the translation department of the Moscow State Linguistic University (formerly the Maurice Thorez Moscow State Pedagogical Institute of Foreign Languages). Before joining SIM, Mrs. Razumova worked as the head of the Executive Search Service at Ernst & Young.
Mrs. Razumova began her career with the publishing house in 1997, starting out as the Senior Advertising Manager for Cosmopolitan magazine. She became the Advertising Director for Kult Lichnostei (Personality Cult) magazine in 1998, and in 2000 she became the publisher of Harper's Bazaar, a publication she successfully ran for seven years. In 2006, Mrs. Razumova was appointed Director of Custom Publishing, a rapidly growing division of the publishing house.
Since 2008, Elena Razumova has been the Director of Grazia magazine. A fresh and dynamic publication, Grazia celebrated its fifth anniversary in 2012 and is Russia's only glossy weekly magazine covering fashion and celebrities. In January 2009, Mrs. Razumova became the General Director of Mondadori IM, a division of SIM.