Jean-Emmanuel De Witt New CEO Sanoma Independent Media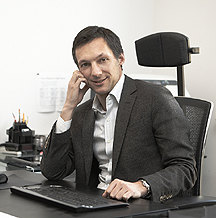 Sanoma is appointing Jean-Emmanuel De Witt as new CEO of Sanoma Independent Media as of April 1, 2013. Jean-Emmanuel De Witt is an experienced executive with a proven track record in the Russian media industry.
De Witt (1970, French) joins Sanoma from Russian publisher Hearst Shkulev Media / I.M.G. where he was Senior Vice President CIS & Group Publisher. De Witt has had an outstanding career with Hachette Filipacchi Medias since 1996 in France, Taiwan and Russia. In his role at Hearst Shkulev Media (formerly Hachette Filipacchi Shkulev) he was head of the company's operations. He, set up the digital activities and grew the market share of the magazine portfolio.
"I am very happy that Jean-Emmanuel De Witt is joining Sanoma to lead our Russian operations and develop the company further towards a multi-channel future. Media companies everywhere are facing tough market challenges. I believe that Jean-Emmanuel and the strong Russian team will be able to build on our leading position in the glossy market and reach new heights," comments Harri-Pekka Kaukonen, President & CEO of the Sanoma Group.
Graduated from EDC Business School in Paris, De Witt started his career as financial controller at retail chain Casino. He moved to media house Hachette Filipacchi in a similar position in 1996 and was promoted to MD of the Taiwan office three years later. In 2003 De Witt went to Russia and became responsible for developing Hachette's joint venture Russian operations as well as Hachette Ukraine.
Heike Rosener, CEO of Sanoma Media Russia & CEE of which Sanoma Independent Media is part, says: "Jean-Emmanuel De Witt is a very experienced Russian media executive with a solid international background. Our Russian team has developed Sanoma Independent Media into a leading, exemplary publishing house. We have the ambition to build on this success and develop the business further, readying it for a cross media future. I believe Jean-Emmanuel is equipped to lead the way and bring Sanoma's experience in this in line with Sanoma Independent Media's strengths."
"I am very much looking forward to working with the team that has built Sanoma Independent Media into the leading glossy publisher," says Jean-Emmanuel De Witt. "This provides a great base to work on new things as well. I think we are ready to take the company to the next level and I am poised to steer Sanoma Independent Media through these exciting times."
Sanoma Independent Media is the Russian business unit of Sanoma Media Russia & CEE. Sanoma Media Russia & CEE is currently active in nine countries throughout the region, with Russia, Ukraine and Hungary as the most important markets. Its business units have built up strong positions in consumer magazines and digital media since the early 1990s and are piloting with TV. In 2011, Sanoma Media Russia & CEE generated net sales of EUR 213 million.