Popular Mechanics in April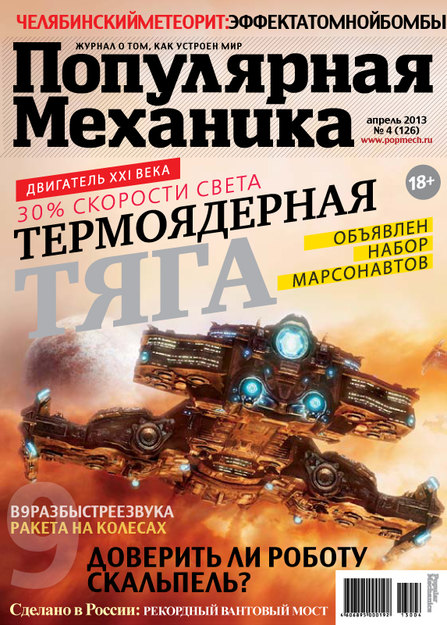 Starships are the top story in the April issue of Popular Mechanics. The first thermonuclear explosion, which thundered into history on Nov. 1, 1952, also gave humanity hope for a new type of rocket engine that could propel spacecraft to distant planets and even to nearby stars. Read more in the article on rocket engines powered by nuclear fusion.
In the "Science" section, find an article titled "The Chemical Key to Memory," about one of the major scientific mysteries of the 21st century. The "Technology" section features the article "On Mars Forever," about the Dutch company Mars One, which plans to lay the foundations of a colony on that planet in 2016 and send the first earthling emigrants there by 2023. In "Weapons," readers will learn about the Meteorite, an ultramodern, supersonic strategic missile, and the development of a flame-throwing tank that is partially banned by a UN convention.
Also in this issue:
operating system;
nine times faster than sound;
when pancakes are not lumpy;
cosmic thunder;
back to reality;
workshop: how to convert a smartphone into a tiny camera quickly and inexpensively;
the communication theory of Marnix de Nijs;
a science-fiction short story.
Read carefully, and don't miss the April Fool's Day article inside!