Harper's Bazaar Coloring Album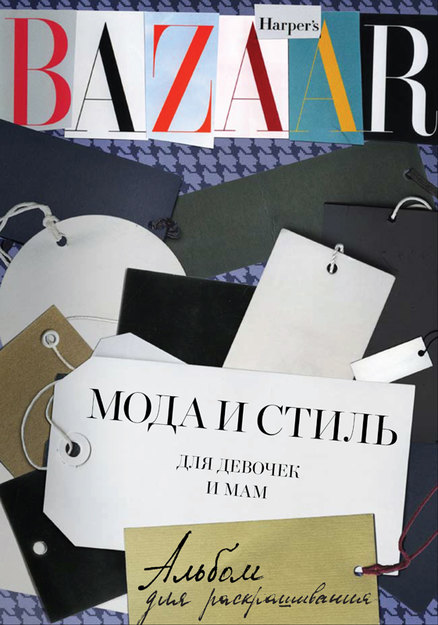 The Harper's Bazaar editorial board teamed up with 14 leading Russian designers to create a unique coloring album:  "Fashion and Style for Moms and Daughters."
The designers present their modern, unique, inspiring and creative sketches on the pages of the coloring album in an open invitation to readers to unleash their creative potential. Grab a pencil, some chalk and a set of watercolor and lose yourself in the genuine pleasure of childhood fantasy and fun.
Bright colors, bold cuts and unusual prints: The book brings together interesting models that open a door into the world of fashion. The participating artists include: Yulia Yanina (Yanina), Alena Akhmadullina, Katya Dobryakova, Valentin Yudashkin, Alexander Terekhov, Kira Plastinina, Vika Gazinskaya, Oleg Ovsiyev (Viva Vox), Igor Chapurin (Chapurin), Yulia Kalmanovich (Kalmanovich), Anastasia Romantsova (A la Russe), Alexander Arngoldt (Arngoldt), Andrei Artemov (Walk of Shame) and Natalia Goldenberg (Tsipporah).
Now you can forget about your daily concerns by feeling like a child again — and like a real designer. Use your imagination to create new dresses and fabulous prints.
The Harper's Bazaar coloring album went on sale April 8 in the Detsky Mir retail chain, the Moskva shopping center, the central House of Books in Moscow, the Biblio-Globus shopping center and Respulika stores. The album is also available from the Labirint.ru and Ozon.ru online stores. The contributing designers that created the sketches are also giving away complimentary copies of the album with purchases in their boutiques and shops.
The Azbuka-Attikus publishing group — owner of the Machaon trademark — is handling distribution of the "Fashion and Style for Moms and Daughters" album.
Harper's Bazaar – fashion without rules!