Harper's Bazaar Art Released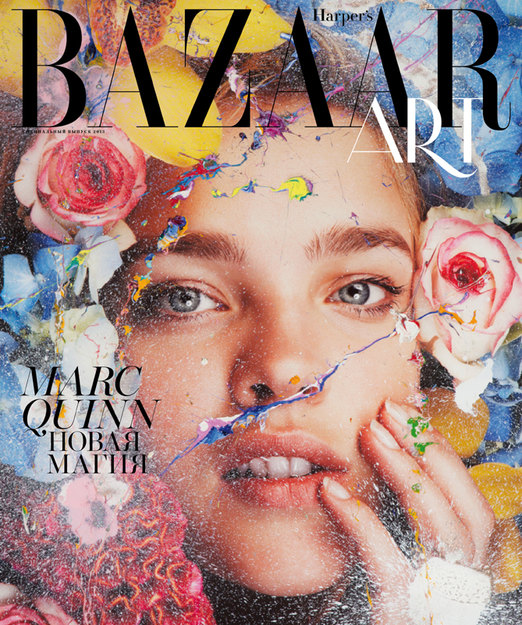 The first special issue of Harper's Bazaar Art was released on April 30. The best art critics of Moscow, St. Petersburg and New York helped assemble this issue and museum directors, auction house heads, famous artists, prominent curators and major collectors appear on its pages.
Special attention is given to the connection between the art world and the fashion industry. Fashion house designers explain how art influences their work. The magazine describes elite collections of contemporary art, awards for artists and exhibitions initiated by major fashion houses.
Three talented artists worked directly on the first issue of Harper's Bazaar Art and famous British artist Marc Quinn created three versions of the cover that featured models Natalia Vodianova, Naomi Campbell and Lara Stone.
In this first issue, readers will find:
In full bloom. British artist Marc Quinn, who created three versions of a cover for Harper's Bazaar Art, tells magazine Editor-in-Chief Daria Veledeeva what he finds interesting about ancient oriental art, idols of the modern world and about his project for the Venice Biennial.
The glorious past. Many famous artists were regular contributors to Harper's Bazaar over its 146-year history. They include such names as Leon Bakst, Man Ray, Martin Munkacsi, Henri Cartier-Bresson, Salvador Dali, Andy Warhol, Richard Avedon and others. Editors recall the best covers, photo shoots and illustrations created by these greats.
The ABCs of Art. In this special section, editors reveal the basic concepts of modern art to help readers navigate its complex world: the main trends, major genres and the most important names and events.
Total recall. Diane von Furstenberg and Antonio Marras talk about their passion for art and the artists that influenced their work.
Made in Italy. This extensive "Italian" section is devoted to art events and modern art projects carried out by renowned fashion houses. News of the 55th Venice Biennial and an interview with its curator, Massimiliano Gioni, a story about the best projects in the 20-year history of the Prada Foundation and Furla Prize Award for young artists. This section also looks at the art collection of the Max Mara house founder and the unique Castello di Ama collection of installations from Tuscany winemakers.
In the leading role. An exhibition of early works by photographer Cindy Sherman at the Gucci Museum in Florence has enabled Harper's Bazaar Chief Art Director Igor Grebelnikov to gain a new perspective on this American artist's entire body of work.
Gaining time. Art critic Irina Kulik met with famous Belgian antique dealer and collector Axel Vervoordt at his castle near Antwerp. The creator of the legendary Artempo exhibition told her why, for him, there is no fundamental difference between modern and ancient art and described his new project for the Venice Biennial.
The Hermitage speaks. Hermitage Director Mikhail Piotrovsky tells St. Petersburg artist Olga Tobreluts how the museum will celebrate its 250th anniversary and about the Manifesto European biennial the Hermitage will host next year. Also, well-known art critic Kira Dolinina spoke with Hermitage Director for Contemporary Art Dmitry Ozerkov.
Caroline can do it all. New York curator Nato Thompson spoke with Caroline Christov-Bakargiev, art director of the 13th Document exhibition and the person that Art Review magazine calls the most influential person in the world of contemporary art.