100 Cosmopolitan Brides "Ran Away" for the 9th Time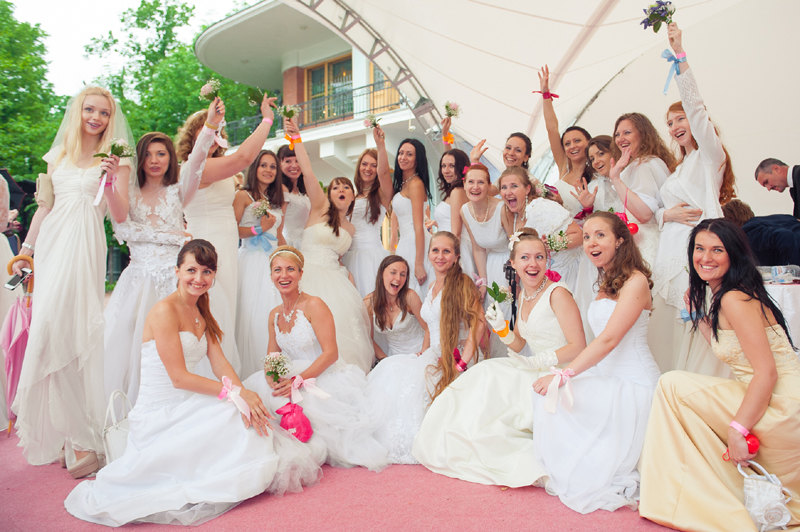 The Cosmopolitan Runaway Bride festival was held at the Hermitage Garden on May 25. It was the first in a series of 50 similar flash mobs staged throughout Russia. More than 3,000 brides were expected to take part, along with more than 20,000 spectators.
Cosmo.ru editor-in-chief Ksenia Ruzanova joined the "runaway" brides, as did a host of celebrity guests that included Oxana Ustinova and Rita Che of the Einstein Girls group, Irina Ortman, the DASviDOS group, Vladimir Kristovsky of Uma2rmaH, Yulia Kovalchuk, Miss Russia first runner-up Anna Gorodzhaya, Olga Danka, the BandEros group, Andrei Zvonky, Igor Lantratov, Snezhina Kulova and Monako Project.
Festival guests enjoyed dance workshops, snapshots in a Cosmopolitan photo booth, marriage-themed stand-in photo boards and a stylized photo zone by Wedding magazine. Couples could also "tie the knot" in a special mock wedding ceremony. As usual, many people lined up at the fortune teller's booth to learn what life held in store for them.
Love Radio lifted everyone's mood with a celebrity concert, and station DJ Ruslan Polyansky — who acted as MC for the festival — held a live contest that awarded the winner 100,000 rubles ($3,150) to organize the wedding of their dreams. That gift went to Oleg Podolyako and Maria Shudashyova.
The celebration ended with the beautiful and artistic ritual of tossing hundreds of bridal bouquets into the air at once. Next, the participating brides "ran away" from the Hermitage Garden to six huge limousines that took them for a sightseeing drive around the capital. The evening ended at Hard Rock Café Moscow with rousing dances until dawn.