Russian National Cosmo Day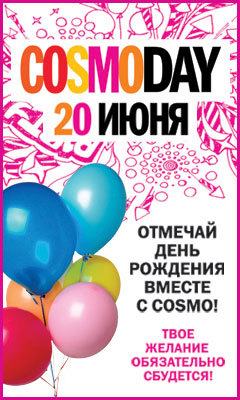 Cosmopolitan magazine proclaims June 20 as Cosmo Day and plans to hold flash mobs across the country to celebrate.
The main symbol of Cosmo Day — a pink Cosmo ribbon — is included as an insert in the June issue of the magazine. This is a new sign distinguishing Cosmo girls all across Russia: a symbol of happiness, beauty and unity among all those who combine active lifestyles with a desire to make a positive contribution.
Readers are invited to become part of the international Cosmo movement by finding a creative way to attach their ribbons to their hair, purse, smartphone or even pet. They can do so with help from tips by Cosmo stylists in the June issue or by coming up with their own unique approach. However they do it, they are invited to photograph the result and post it on social networks with the hashtag  #cosmoday. Celebrities of the stage and screen, television hosts, fashion bloggers and other friends of the magazine have already been spotted wearing their Cosmo ribbons.
Cosmo Day June 20 will be held in Moscow, St. Petersburg, Yekaterinburg and Krasnodar. Entertaining programs will be staged at central parks where guests can learn Cosmo dances set to exciting DJ music. At exactly 8 p.m., the readers gathered in each city will release hundreds of helium balloons into the sky, each carrying a Cosmo ribbon inscribed with personal wishes.
An additional surprise awaits participants of the Moscow and St. Petersburg flash mobs. The DASviDOS group will perform in the capital, and the Marsel group and Yegor Sesarev will thrill the crowds in the city on the Neva. Readers who live in cities were flash mobs will not be staged can make a wish and release balloons online at www.cosmo.ru.
The Cosmo Day flash mobs will be captured both on film and in a video featuring the Cosmo readers who most actively participated in events.
The June 20 holiday will kick off a large-scale, national Cosmo movement in which the key participants will become Cosmo agents. In the June issue, Cosmopolitan announces that it will be hiring for the dream jobs in a host of Russian cities. In this way, the magazine inspires confidence among young, goal-oriented women and enables them to support each other and to work together to meet their goals.