Cosmopolitan Anniversary Celebration Reaches New Heights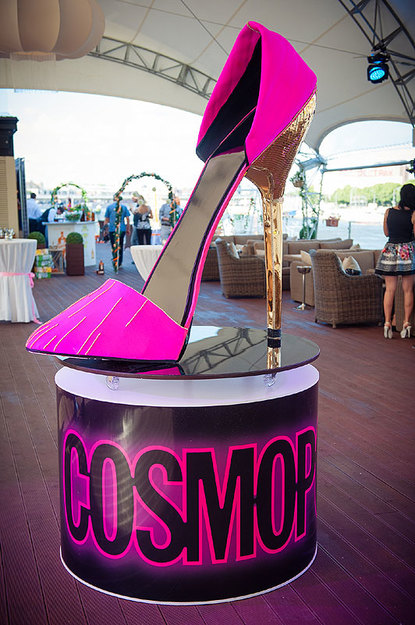 Cosmopolitan magazine held a super 19th-anniversary High Heels Party at the Neskuchny Sad (Fun-Filled Garden) restaurant on June 19.
This year, the very concept of the event reached dizzying heights. As guests entered the restaurant, they were met by an art object in the form of a huge pair of bright pink, high-heeled shoes. A smaller version of the same design adorned the second floor of the restaurant, from which guests could enjoy a magnificent view of the Moscow River.
The wonderful weather, beautiful interiors, gourmet treats and scintillating cocktails all contributed to the prevailing high spirits that rose even higher as the party picked up. Music sets by DJ Feniks (Phoenix), a rousing performance by the Scotch dance troupe and new hits from DJ Leonid Rudenko and singer Mishelle livened up the dance floor so much that all the ladies forgot about their high heels. Super-charismatic Timur Rodriguez also lent the evening a touch of magic.
Singer Oceana, famous in Russia for her hit songs "Cry Cry" and "Endless Summer," flew in to congratulate Cosmopolitan, while MCs Timur Solovyev and Snezhina Kulova gave the Cosmopolitan High Heels Party its stylish and relaxed atmosphere.
Throughout the evening, Cosmo boys could be seen helping the young women up and down the stairs, measuring the height of their heels and inviting them to take part in the "Find the Second Pair" game. The most active participants received gift certificates from the Rendez-vous shoe store chain and stylish watches from the 3-15 chain of watch shops.
The culmination of the evening was the appearance of an amazing multi-tiered cake by the Renardi pastry house. High heels made from marzipan also adorned the confectionary masterpiece.
Among the many guests who were on hand to "ride high" with Cosmo were DJs Smash, Dzhigan, Oxana Ustinova and Rita Che (of the Einstein Girls), Anastasia Zadorozhnaya, Katya Li, Alexander Rogov, Andrei Razygraev, Elvira T., Viktoria Desyatnikova, the Assorti group, Irina Ortman, Beretta, Anna Gorodzha, the 23-45 group, Loya, the DASviDOS group, Dasha Gauzer, Belka, Ekaterina Arkharova, Energy radio Black2White show hosts Yulia Morozova and Lena Gornostayeva, Ekaterina Zharkova, Lena Lents, Ika, Golos show finalists Anastasia Spiridonova and Olga Klyain, DJ Feniks (Phoenix), fashion bloggers and many others. Everybody went home with a complimentary gift: Stylish accessories from MyWalit served as a pleasant conclusion to the evening.
Coverage of the event can be seen on the Yu, Muz-TV, Pyatnitsa (Friday), WFC and Moskva 24 television channels and heard on the Premium and Ekho Moskvy radio stations.
Cosmopolitan always reaches new heights!