Harper's Bazaar in August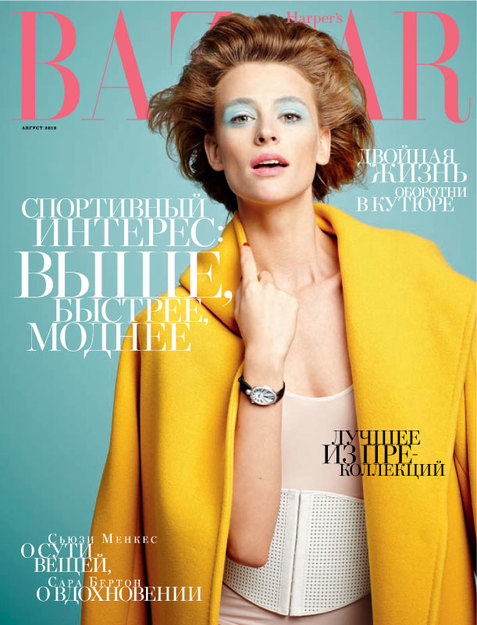 The cover of the August issue of Harper's Bazaar features model Milou van Groesen wearing a Max Mara coat and Reine de Naples watch. In this issue:
Leisure interests: higher, faster and more fashionable;
The Queen speaks: Sarah Burton on fashion and inspiration;
Dress rehearsal: the main trends this fall — the best of the pre-collections;
Wild heart: supermodel Christy Turlington on her life and career;
If things could speak: Suzy Menkes talks about the essence of things and about her wardrobe;
Never too much: the season's best accessories in all their glory;
The soprano clan: an interview with opera diva Albina Shagimuratova;
The double life of Moscow's women: haute couture for werewolves;
New star: the debut of Ria Keburia, a Georgian designer from Paris;
Details: travel notes, the month's top accessories, the latest in jewelry and the main purchases of summer;
The best spas and hotels in Europe, Asia and the United States;
A guide to cultural events in August and the hottest parties and openings of summer according to Harper's Bazaar.
The August issue went on sale July 23. The iPad version of the magazine will be available from the App Store starting July 30.
Harper's Bazaar — fashion without limits!