Popular Mechanics in August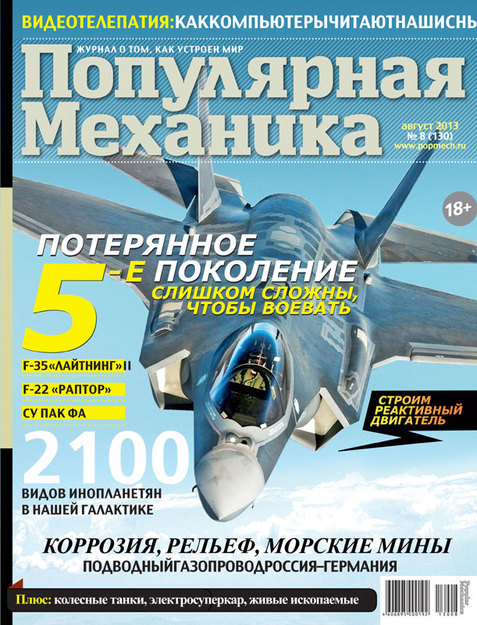 The multirole fifth generation F-35 fighter aircraft is considered to be a larger and less expensive alternative to the F-22 "Raptor." New modifications of the F-35, or "Lightning II," will soon be available for use by the U.S. armed forces. However, the project has experienced some technical difficulties and financial problems. The new issue of Popular Mechanics presents an investigative article discussing whether the most technically sophisticated and expensive aircraft are the best choice for the armed forces.
In the Science section, the article "Extraterrestrial Intelligence" explains that our galaxy contains at least 11 billion planets the size of Earth that orbit their own stars and that very possibly contain life.
In the Weapons section, the article "Test Range Temperature Rising" describes the dress rehearsal of a future war scenario at the U.S. Marine Corps Training Center. In Technology, the article "Winds of Garbage" looks at how to save cities from dumpsters and garbage trucks. In the Test Drive section, the Popular Mechanics team rain-tests convertibles.
Also in this issue:
Underwater strands;
An electronic journey through the looking glass;
The art of secret change;
Looking at someone else's dream;
Electric mimicry;
Big wheels for a big tank;
The pins and flags of Dave Cole;
Perfect storm;
How to build a jet engine yourself — in the Workshop section.