Harper's Bazaar in September: Major Fashion in Large Format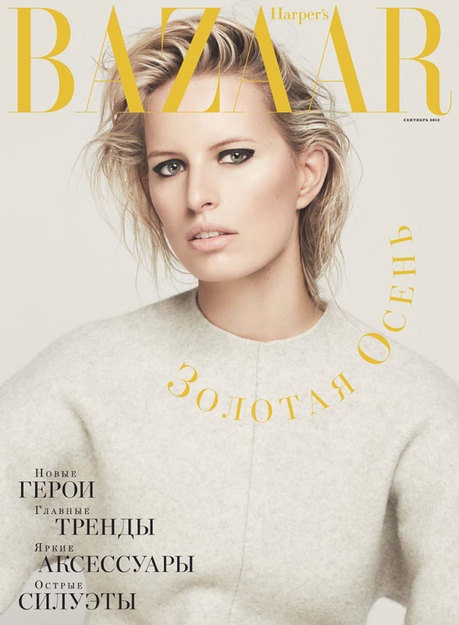 Model Karolina Kurkova in a Celine dress graces the cover of the large format September issue of Harper's Bazaar.
In this issue:
The main trends of the golden autumn: the swankiest ideas of the new season.
Supermodel Karolina Kurkova demonstrates the most striking looks for this fall: black and white, body-hugging and loose-fitting as well as clothes made from leather and wool.
Carine Roitfeld and Karl Lagerfeld swear allegiance to beauty and exclusivity. Proof in the Harper's Bazaar Sweet Woman project. Also, the camera looks at Scarlett Johansson, Dakota Fanning, Karen Elson, Lily Donaldson and other divas.
Tweed and fur, midi skirts and floor-length coats, grunge and pastels, houndstooth and checkered, 1940s and 1970s — these and other trends of the fall-winter 2013/2014 season in a detailed review by Harper's Bazaar.
Can't catch us: sisters Pauline and Ksenia Kutepova on the phenomenon of the Pyotr Fomenko Workshop Theater and the genius of its founder.
The order of things: modern art and paintings of the 19th century, vintage accessories and works by young designers — and Harper's Bazaar discovered that you can travel in time with a visit to Oxana Bondarenko.
Bazaar hero: Igor Grigoryev, the romantic idealist and creator of the OM cult magazine, talks about his principles, music and life in Brazil as well as the Cornucopia album that will resound in iTunes across the country this September.
Checkered patterns and spotted designs, leather and fur, capes and tunics, pencil dresses and miniskirts — the key elements of fall fashion through the lens of Natalia Alavredyan.
Must-have: Harry Winston earrings with diamonds and sapphires mounted in platinum, a Dior clutch with an Andy Warhol sketch and perfume creations from the Oriental Collection of Yves Saint Laurent.
Must see: the new Chanel jewelry collection, online festivals, major movie premieres of the month, a guide to the Moscow Biennale of Contemporary Art as well as the world's top interior design exhibitions.
The best of the new and necessary: insider information on the hottest buys and finds of the month.
Beauty: the most interesting niche fragrances and their creators, concierge services in the plastic surgery field as well as glitter, curls, dark lipstick, shimmering shades, Rita Hayworth-style hairdos and smoky eyes in the most complete and detailed guide to beauty trends of the season.
Flash: the hottest parties according to Harper's Bazaar.
Finds: Miami, Brussels, Dublin, Granada and other great destinations for September.
Harper's Bazaar — major fashion in large format!
The September issue went on sale August 20. The iPad version became available in the App Store on August 27.