Special Issue of Esquire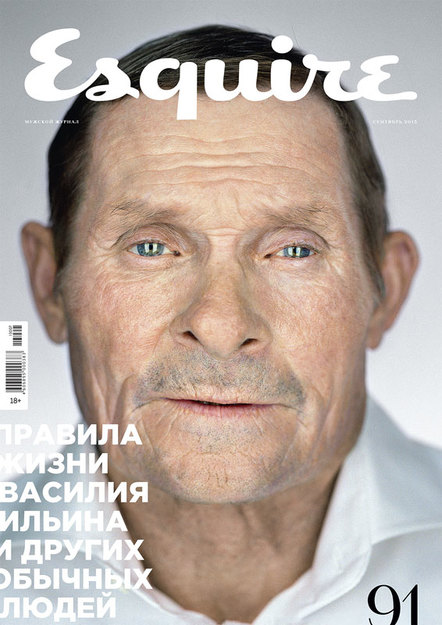 For the first time in eight years, Esquire magazine has released a special issue with Rules of Life-style interviews taken not with famous figures, but with absolutely ordinary individuals.
Editors selected 11 people who had never given an interview, but who had something to say. The subjects include men and women, old and young: an air conditioning installation mechanic nicknamed Manya, a domra player, a man who succeeded in establishing good relations with his father-in-law, an accountant who cannot lie, a former security guard, a fisherman from Tukums, a woman who flies in her dreams and others. They share their views on life, on changes affecting their lives — and ours — as well as what they like and dislike about their lives.
The cover features retiree Vasily Ilyin of the Kursk region village of Ryshkovo who traveled to New York especially for a photo shoot with Martin Schoeller, the famous photographer who created more than a dozen covers for Esquire. With the exception of his stint in the army, Ilyin had never traveled beyond the confines of his village, despite a lifetime longing to see the world. Director Alexander Khudokon meticulously documented the entire journey, creating a film that will be available for viewing on the www.esquire.ru site in early September.
This issue also looks at how 21 computer games became part of the Museum of Modern Art collections, how Russian orphans are faring in the U.S. and what threatens freedom of speech on the Internet. Readers will find an interview with Pyotr Ofitserov who was sentenced along with Alexei Navalny in the KirovLes case; a deathbed letter from a soldier suffering from "Iraq syndrome"; Burn, a story by writer Mischa Hiller; a story by economist Hernando de Soto on the causes of the Arab Spring; and a list of nicknames of Russian officials such as Moonwalker, Scooter, The Welder, Intsitat, The Real Igor and others.