Harper's Bazaar Art Hendrik Kerstens Exhibition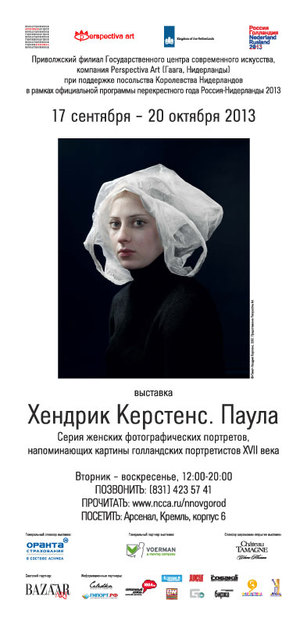 Harper's Bazaar Art, the publication about art, fashion and design, will serve as the high society partner to an exhibition of works by the famous Dutch photographer Hendrik Kerstens to be held from September 16 to October 20 in the Volga branch of the Arsenal National Center for Contemporary Art (NCCA).
The works on display are a series of photographic portraits of women reminiscent of portraits by such 17th-century Dutch painters as Vermeer, Rembrandt and Frans Hals. Kerstens masterfully transforms images of his model and daughter, Paula, into a portrait subject of centuries past. Works by Kerstens are held in the collections of such institutions as the Santa Barbara Museum of Art, Erasmus University in Rotterdam, Gemeentemuseum in The Hague and in private collections. His works have been published in l'American Photo Magazine and the U.S. edition of Harper's Bazaar.
As a partner to the event, the Harper's Bazaar logo is displayed in the list of media partners on all printed materials for the exhibition. These include a banner on the Nizhny Novgorod Kremlin, the press wall devoted to event partners and sponsors, posters in the exhibition space, invitations to the official opening at the Arsenal NCCA, the exhibition catalog, the project's press release and on all pages of the official exhibition website that includes links to the various event partners. In addition, Harper's Bazaar Art secured rights to use photo and video material from the event for promotional purposes.
Harper's BazaarArt — art, fashion and design!