Cosmopolitan Beauty Awards 2013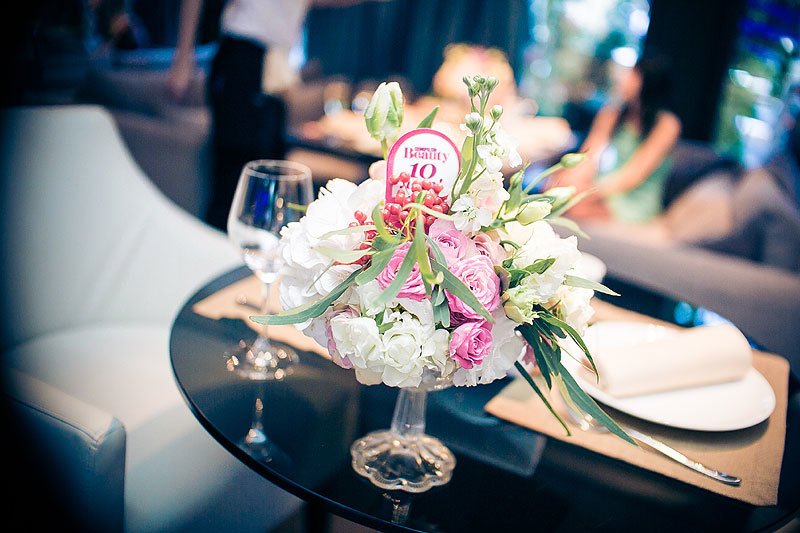 The Cosmopolitan Beauty Awards ceremony was held September 18. The event was held in a special gala evening format in honor of the 10th anniversary of both the Cosmopolitan Beauty magazine and the awards themselves.
The awards ceremony was held in the new and fashionable Svetly restaurant. The event brought together the awards nominees, chief editors of glossy magazines and the members of the celebrity jury: Polina Kovalchuk, Vyacheslav Manucharov, Sati Kazanova and Irena Ponaroshku. The evening's guests included Lyaisan Utyasheva, Dasha Gauzer, Vel Nikolski, Snezhina Kulova, Igor Lantratov, Olga Rudyka and Polina Repik.
The magazine's editors had a number of surprises in store for the guests, including the introduction of the new Cosmopolitan Beauty editor-in-chief, Yulia Lapshina. Ms. Lapshina previously served as the magazine's junior beauty editor. Natalia Sherstyuk made an official announcement of the appointment and gave Ms. Lapshina the right to open the evening's ceremonies. Ms. Lapshina handed each of the winners a Cosmopolitan Beauty statuette and a bouquet of flowers created by flowerslovers.ru, floral partner to the event.
Master of Ceremonies Igor Lantratov created a festive atmosphere while the Jazz Hit ensemble put guests in a musical frame of mind. The Wow mobile beauty salon offered a nail bar where guests could get a manicure with the ultra-modern nail polish minx and a brow&make-up bar where they could touch up their image. Svetly restaurant head chef Arkady Kolotov also provided culinary accompaniment for the evening with his exquisitely rendered hors d'oeurves. Guests celebrated the anniversary of both the awards and the magazine with a goblet of delicious Swell juice.
Per tradition, nobody went home empty handed. Each guest received costume jewelry by Frederic M, and members of the celebrity jury were given prizes from the French line of professional cosmetics Academie.
Video reports of the event will air on the Yu, Pyatnitsa (Friday) and Fashion TV channels, as well as the Geometria.ru and Cosmo.ru websites.
The Cosmopolitan Beauty Awards (CBA) are the Russian equivalent of the U.S. awards given by Cosmopolitan and Cosmopolitan Beauty. This year's CBA honors were presented to the 21 best new perfume and cosmetic products to hit the market between August 2012 and August 2013. Editors, readers and a celebrity jury selected winners in each of the seven categories. Three winners were chosen in each category. The first winner was chosen by an independent celebrity jury, the second by the Cosmopolitan and Cosmopolitan Beauty editorial staff, and the third by readers, who submitted their votes through the magazines' websites.
The Cosmopolitan Beauty Awards 2013 jury included TV program hostess Irena Ponaroshku, who chose the best facial care product; singer Yulia Kovalchuk, best body care product; singer Sati Kazanova, best makeup product; actress Svetlana Khodchenkova, best hair care product; actress Svetlana Ivanova, best women's fragrance; TV program host Vyacheslav Manucharov, best men's fragrance; and designer Kira Plastinina, best design.
The Cosmopolitan Beauty Awards Winners for 2013 are:
Best Facial Care Product:
Celebrity Choice: Estee Lauder, Advanced Night Repair Eye serum
Readers' Choice: Pola, D Line
Editors' Choice: Sisley, Botanical D-tox night care
Best Body Care Product:
Celebrity Choice: Kenzoki, Sensual Bare Body Cream
Readers' Choice: Chanel, Les Exclusifs Fresh Body Cream
Editors' Choice: Shiseido, Advanced Body Creator Super Slimming Reducer anti-cellulite gel and cream
Best Makeup Product:
Celebrity Choice: Clarins, Rouge Eclat flavored lipstick
Readers' Choice: Max Factor, Clump Defy mascara
Editors' Choice: Guerlain, Cils D'Enfer mascara
Best Hair Care Product:
Celebrity Choice: Kiehl's, Magic Elixir Hair Restructuring Concentrate
Readers' Choice: Gliss Kur, the Marrakesh & Coconut line of hair restoration products with precious oils
Editors' Choice: Vichy, the new Dercos ranges
Best Women's Fragrance:
Celebrity Choice: Yves Saint Laurent, Manifesto
Readers' Choice: Nina Ricci, Mademoiselle Ricci
Editors' Choice: Lancôme, La Vie Est Belle
Best Men's Fragrance:
Celebrity Choice: Gucci, Guilty Black Pour Homme
Readers' Choice: Dior, Dior Homme Cologne
Editors' Choice: Givenchy, Gentlemen Only
Best Design:
Celebrity Choice: Marc Jacobs, Dot fragrance
Readers' Choice: Avon, Mega Effects mascara
Editors' Choice: L'Oreal Paris, Nail Art Color Riche appliqués