Harper's Bazaar Site Updated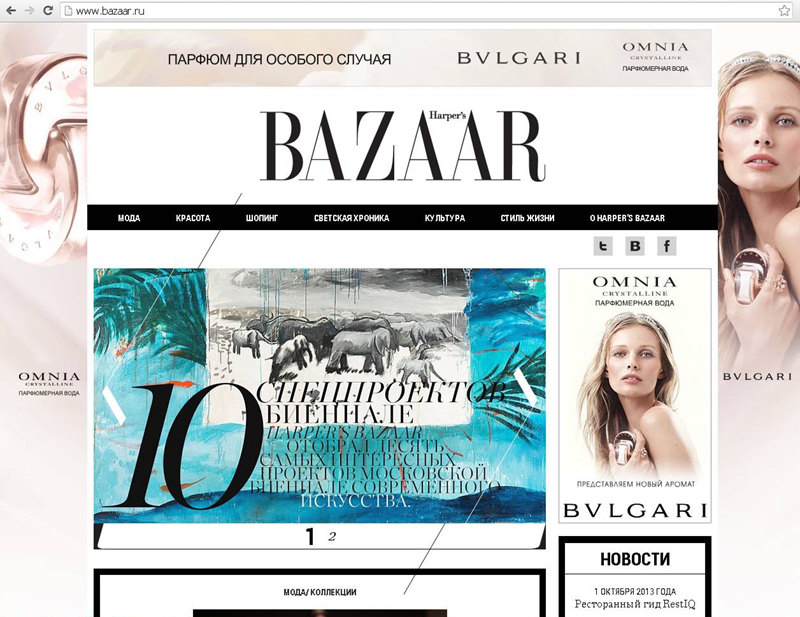 Harper's Bazaar magazine has rebooted its Bazaar.ru site. The update has brought the Internet resource into even closer alignment with the print magazine.
The site's new structure consists of seven sections: Fashion, Beauty, Shopping, Celebrity News, Lifestyle and About Harper's Bazaar. Several of these sections match similarly named trademark columns in the magazine. The site also includes extended versions of interviews, reviews, news and announcements that exceed the space limitations of the magazine.
Harper's Bazaar magazine editors will also manage the content on Bazaar.ru. They will cover all of the important events from the world of fashion, beauty, art and celebrity life, ensuring that users receive accurate and high-quality information. In the special Bazaar Choice Calendar, users will be able to follow editors' recommendations for all major cultural and fashion events.
In addition, a special campaign for readers will be announced on the magazine's website and on its social networks pages. Participants will have the opportunity to attend celebrity events and exhibitions as well as theatrical and film premieres.
The updated Bazaar.ru site is accompanied by an advertising campaign with an estimated coverage of 2.5 million people.