Esquire Updates Site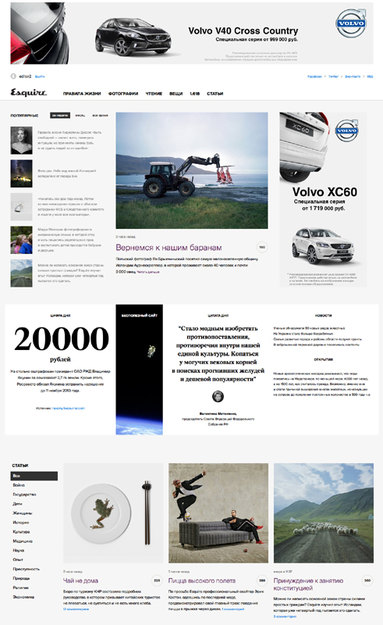 Esquire magazine has updated its website, esquire.ru. The home page is now divided into thematic blocks with announcements included in each block. The new structure has made it possible to place several times more information on the home page than before. Overall, the site has become even more informative and user-friendly.
The central position on the esquire.ru home page is occupied by a block containing the latest materials as well as the most popular articles of the week, month and whole history of the site. The new subject headings direct users to all of the various materials published on esquire.ru. In addition to the regular "Figure of the Day" and "News in Verse" features of the "Today" section, readers will now find "Discovery of the Day," "Quote of the Day" and "Useless Site of the Day." The "Photo of the Day" has introduced the "Butterfly Map" — an entertaining and informative service that enables users to view the collection of photos according to geographic origin and quantitative ratio, as well as to sort photos by subject. Two new blogs will soon appear on the site as well: on civil society and photographic journalism.
Users can also now log onto the site through social networks.
According to Sanoma Independent Media publishing house Digital Products Director Viktor Saxon, "Esquire is an important project for our audience, and we see great prospects for the brand in the digital world. Our initial findings indicate that the new site is very well received by readers."