Grazia Holds Young Designers Competition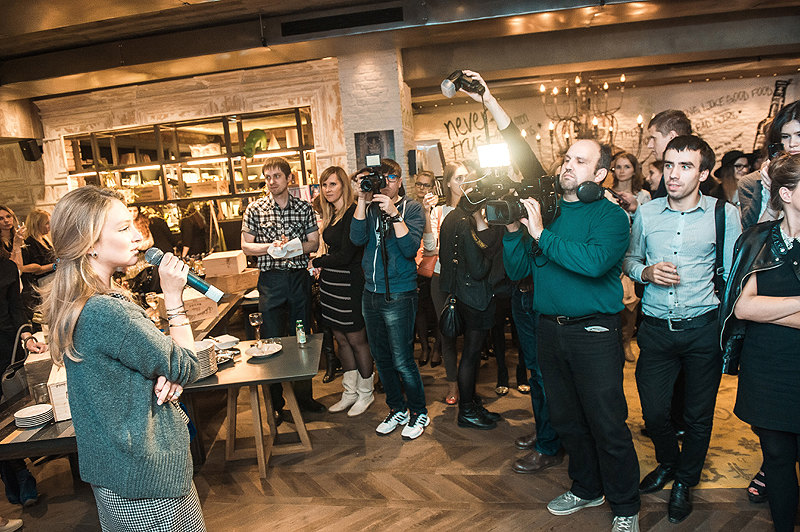 Grazia magazine marked the start of its latest Young Designers Competition with a black & white party held at the Double Dutch restaurant on Oct. 9. A number of notable guests were on hand for the event, including recognized experts from the world of fashion, bloggers and designers such as as Yulia Kalmanovich, Yevgenia Linovich, Vlad Lisovets, Oleg Tarnopolsky, Milana Koroleva, Olga Dibtseva, Yelena Knyazeva, Olga Kalayeva and many others.
Guests watched a film retrospective documenting the history of the project. The culmination of the evening was the presentation of works in black and white by the most successful graduates of the contest — Alexandra Kondakova, Anastasia Zadorina and Alexandra Vanyushinoy. Actresses of stage and screen modeled the striking creations.
Everyone had a chance to feel like a real designer at the event. Designer Katya Dobryakova explained how to turn a T-shirt into a masterpiece, designers from Osome2Some taught guests how to make leather accessories and stylists from Redken 5th Avenue NYC made beautiful hair styles for every visitor. Fashion blogger Yevgenia Tarletska had guests pose in front of a 1930s retro camera, and following a workshop on making flawless photos, all of the guests received complimentary gifts from Nivea.
The Young Designers Competition continues. Once again, Grazia gives talented young people a chance to demonstrate their abilities with a mini-collection of their work at Fashion Week in Moscow and the Aurora Fashion Week in St. Petersburg. Submissions will be accepted until November 10 at magazine.grazia@gmail.com. The contest results will be announced in December 2003.
In a first for this competition, novice designers will receive individualized instruction from such leading designers as Kira Plastinina, Alena Akhmadullina, Anastasia Romantsova (A La Russe), Yulia Kalmanovich and Katya Dobryakova.
Look for news of the contest in Grazia magazine, on the site www.graziamagazine.ru and in social networks.