New issue of Harper's Bazaar Art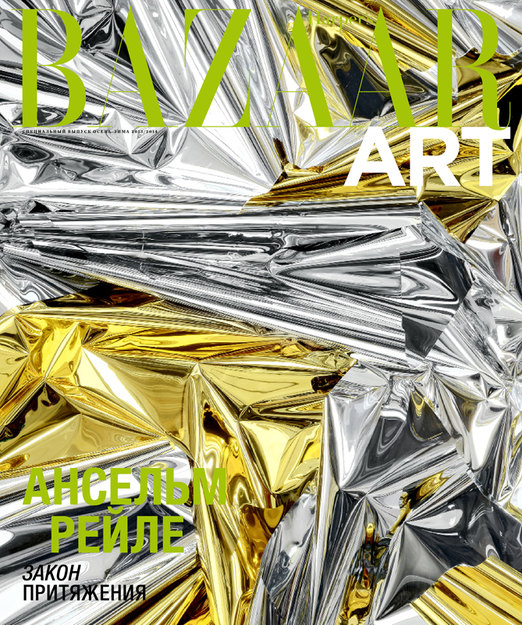 Introducing the second issue of Harper's Bazaar Art, the publication that offers a new look at the relationship between the worlds of art and fashion. Top journalists, photographers and artists report on the season's most sensational exhibitions, new names and recognized contemporary art classics, art fairs and collectors, fashion houses' special projects and studio fashion shoots. This issue also features exclusive interviews and reports.
German artist Anselm Reyle created both covers for this issue of Harper's Bazaar Art. Relye is known for his paintings, art objects and foil and neon installations as well as for his collection of accessories for the Dior house. Readers will find an interview with him as well as extensive coverage of his new project in his Berlin studio.
Renowned collector and modern art luminary Maria Baibakova assumed the role of interviewer for the very first time. In a special for Harper's Bazaar, she met with the classic U.S. artist Chuck Close in his New York studio in what was his first interview for a Russian magazine.
A separate section of Harper's Bazaar Art is devoted to France. Vive la France! looks at the best Cartier Foundation exhibition held in its 30 years of existence, an artist's prize established by L'Oreal founder Liliane Bettencourt, the Hermes Foundation art-related project, art exhibitions staged in Louis Vuitton boutiques, the impressive collection of drawings that the Daniel and Florence Guerlain family donated to the Centre Pompidou as well as this fall's main Paris exhibitions.
In the First Person column, classic Russian art figure Erik Bulatov — who celebrates his 80th birthday this year — recalls his early years living in Paris and shares photographs from his personal archives. In connection with the Rene Magritte retrospective at New York's Museum of Modern Art, U.S. artist Jeff Koons talks about his ties to the Belgian surrealist and why he collects his paintings.
Harper's Bazaar Art introduces the Russian audience for the first time to the work of Austrian artist Maria Lassnig who, at 94 years old, has been awarded the Golden Lion by this year's Venice Biennale for her contribution to art. The KOP Moscow artists' studio and the country house of Kandinsky Prize finalist artist Anna Zhelud have become a meeting place for fashion and art: the clothes of the new season – in the entourage of the art workshops.
Many well-known artists helped co-author the second issue of Harper's Bazaar Art. The fashion shoot includes works by Americans David McDermott and Peter McGough. Kandinsky Prize nominees Irina Nakhova, Nikolai Nasedkin and others of the Recycle group created artistic greeting cards. Also, Moscow and St. Petersburg artists created a work made entirely from cosmetics especially for the magazine.
Also in this issue: art hotels in Venice, Copenhagen, Vienna and Gstaad that decorate their walls with the works of famous artists as well as a guide to Paris listing important but little-known places in this European art capital.
Harper's Bazaar Art — art, fashion and design!