Cosmopolitan Beauty Day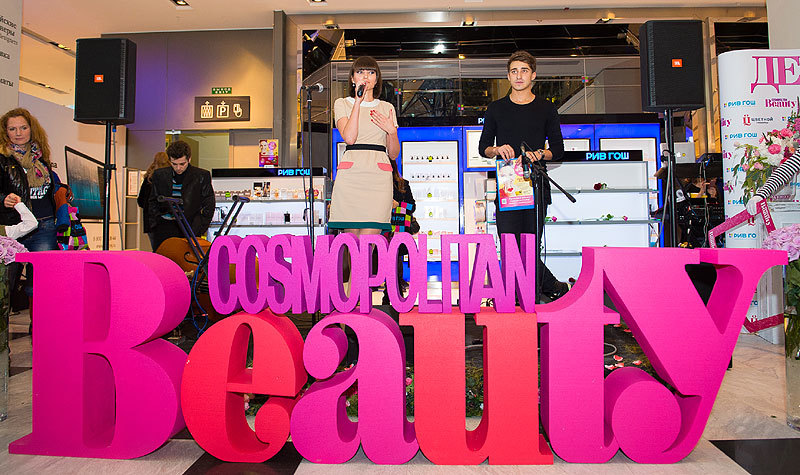 Cosmopolitan Beauty magazine teamed up with Rive Gauche perfumes and cosmetics to host a Beauty Day on November 9. A total of 21,000 people attended the event in three host cities.
Guests taking part in Beauty Day at Moscow's Tsvetnoi shopping center, St. Petersburg's Passage mall and Rostov-on-Don's Megacenter Horizon became immersed in the world of beauty and enjoyed a super shopping experience. High points of the day included up to 50 percent discounts on cosmetics and perfumes, new beauty product presentations, free beauty bars, consultations with make-up artists and stylists, lectures on beauty and style by representatives of leading beauty brands, sweet compliments from Sweeterella and, of course, complimentary gifts. The most active shoppers received gold VIP cards from Rive Gauche and stylish accessories from the Lady Collection. Major beauty brands also presented guests with complimentary gifts and souvenirs.
Illusionists, mimes and living statues lent this year's beauty extravaganza a special mood and feeling of wonder. Striking posters displaying beauty quotes by famous women and decorated with live flowers from the Flowerslovers floral shop in Moscow and Tsvety Express in St. Petersburg created a festive atmosphere for all.
Professional make-up artists applied festive make-up for all comers and guests were also free to take photographs in the special Cosmopolitan Beauty photo zone. Shoppers were especially excited about the free braids offered by the Rive Gauche Express Beauty Studio at the Moscow Beauty Day, and by Grimerka No. 6 in St. Petersburg.
Guests at the Moscow event could take a break from their beauty shopping to watch a live concert by the Jazz Hit group. In St. Petersburg, shoppers enjoyed a fashion show of hats by designer Anna Mikhailova. Beauty Day was held in Rostov-on-Don for the first time and the event was packed full with tips and secrets on beauty and health presented by beauty experts and celebrities. They also enjoyed lotteries for gifts and subscriptions to Cosmopolitan Beauty magazine. The MCs kept guests in high spirits all day, with Pyatnitsa TV channel host Artyom Korolyov regaling shoppers in Moscow, Comedy Club residents Ivan Soldatkin and Nikolai Guslyarov in St. Petersburg and KVN premier league participant Ivan Shcherbak in Rostov-on-Don.
Celebrities also joined in on the fun. In Moscow, the following personalities were spotted in the crowd: designer Masha Tsigal, singer and TV host Yulianna Karaulova, TV hosts Oxana Ustinova, Asia and Olga Danka, singers Tatiana Tershina, Irina Ortman, Yulia Beretta and Elvira T, Mrs. Russia 2013 Anna Gorodzhaya, beauty expert Elena Usanova and the group Artik and Asti. In St. Petersburg, the celebrity guests included actors Andrei Noskov, Polina Filonenko, Yevgenia Igumnova and Daria Vorontsova, the Marcel group, singers Yegor Sesarev and Emi Piterskaya and Love Radio DJ Anton Kazak. In Rostov-on-Don, radio DJs Maria Pogrebnyak and Ivan Karpov took part in the festivities.
Cosmopolitan Beauty Day — beauty shopping and fun, all in one!